Home
Information
Dances
Classes
Galleries
Articles
Contact
Links
Displays
Weddings
Following from the success of the Scottish Dancing and Ceilidhs we have set up some classes in which we aim to teach many of the aspects of Scottish Country Dancing for the beginner to the more accomplished dancer. Although the main emphasis will be on Scottish Country dancing, Ceilidh dances may also be taught.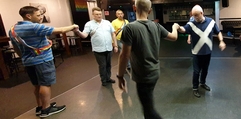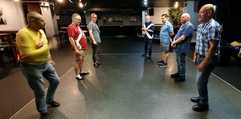 It is the most fun you can have in one night!

The classes are held in the upstairs bar of The Thompson's Arms, 23 Sackville St., Manchester, M1 3LZ from 7.45pm to approx 9.45pm (times were changed due to the new car parking charges) on the following dates. Classes cost £2.00 a night with discount for Full Members.
Below are the 2022 class times

will start with basics and build confidence in social dancing and progress to more complicated steps and routines.
Time: 7:45pm - 9:45pm


Class dates for 2022
2022
May 9, 16, 23 30 (TBC due change of bank holiday date)
June 6, 13, 20, 27
July 4, 11, 18, 25
August 1, 81 15, 22 (no class 29 August due to Bank Hioliday)
Sept No class in September
Oct 3, 10, 17, 24, 31
All dates to Be confirmed.
We also hold ceilidh classes in Burnside Centre, Middleton, M24 5NN. These are open to anyone who wishes to attend. Class cost £5.00 per session. Time 2pm - 4pm
May 7th, 21st
June 11th, 25th
July 2nd, 16th
Aug 6th, 20th
Sept no classes
Oct 1, 8, 15, 22, (no class 29)
No experience is required and you will be well taught by the class instructor and have fun in the process. You can be assured of a warm welcome by members and committee members alike. Its advisable to wear soft shoes when attending a dance class.
The wearing of a kilt at a dance class is not required as you can just turn up in your normal day or evening wear.

You don't have to be a member of the Gay Gordons Manchester to join a Dance Class and is open to all genders no matter what your abilities may be. For more information please contact us through the contact page or just turn up on a normal class night. No classes are held on a Bank Holiday Monday.
All classes are subject to change during these Covid times. Please note if you have symptoms please don't attend a class
Things will improve!